How to Know if Your Home has Cast-Iron Plumbing?
Homes built prior to the early 1980s have sanitary sewer systems beneath the home that are composed of cast-iron piping. Cast-iron plumbing that is exposed to the moisture in our Texas soil deteriorates or rusts over time due to the metallic nature of the pipe.
When is the Right Time to Replace Cast Iron Pipes?
The life expectancy of cast-iron is estimated to be approximately 40 years, which brings most of these systems to the end of the functional life of the pipe. As these aging sewer systems reach the point of failure, the functionality of the sewer system is compromised, but even more, crucial, sewer leakage begins to occur beneath the home.
These leaking sewer pipes will cause the soil beneath the home to expand, causing unwanted movement to the foundation of the home which will create cracking in walls and flooring and will likely require thousands in the foundation and cosmetic repair costs.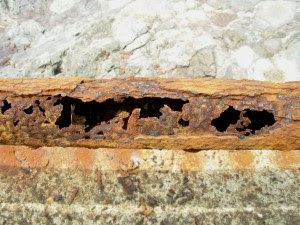 How to Fix Cast Iron Plumbing?
Our recommendation is for a complete overhaul of these aging sanitary sewer systems. This process is typically done completely externally via traditional replacement and rerouting methods combined with trenchless pipe rehabilitation, avoiding costly cosmetic damage to the inside of the home and little or no downtime to continual use of the plumbing system.
We provide a free video camera inspection and consultation to determine viable repair options and to walk through our recommendations with our customers.
How to Get Professional Help?
Please contact our office to schedule a consultation with one of our Texas Master Plumber slab leak experts.