There was a time when residential indoor plumbing in Texas featured wooden pipes. As times changed and more advanced construction materials were developed, cast iron pipe plumbing became standard, and this would last for about a century. The use of metallic materials for water and sewer systems dates back to the late 19th century; many home builders in Texas used it until about the mid-1980s despite the availability of other materials. In addition to sanitary sewer systems and plumbing, cast iron piping has also been used by public utilities to deliver gas to both residential and commercial structures.
One of the problems with traditional iron piping is that it is only meant to last for about four decades. In some cases, it could last 50 years, but deterioration caused by being exposed to underground moisture can happen before 40 years. Corroded cast iron piping is a stubborn issue that can affect homeowners whose properties were built before the mid-80s. Extreme rust results in porous pipes, which means sewer leakage situations under the concrete slabs that homes are built upon. As you can imagine, sewer leaks caused by rusty iron pipes are quite unpleasant, but there is also the potential of structural damage to consider. Cracked foundations are a possibility, which means that floor and wall damage could be next.
Troubles related to casting iron piping are hardly limited to Texas. In October 2019, a television news station in North Carolina revealed that old non-ductile iron pipes underneath restaurants caused leaks in the storm piping system, thus dumping wastewater into the nearby creek of a nature preserve. The city was able to patch up a small section with PVC pipes, but a determination was made to replace the entire system. In the Tampa Bay region of Florida, city officials have considered implementing a program that would force homeowners to undergo complete cast iron pipe replacement. In Chicago, a local gas utility rushed to replace their old piping systems for fear of explosions.
Cast Iron Piping Repair vs. Replacement:
Spot repairs of cast iron piping systems cannot be recommended. Once a leak is detected, it is only a matter of time before the entire system becomes compromised because full deterioration is imminent. Living with cast iron piping underneath can be a gamble; as previously mentioned, Texas homes that still have this kind of sewer system can certainly expect leakage because enough time has passed for degradation. Corrosion is caused by the formation of sulphuric acid from concentrations of hydrogen molecules, and it is nearly impossible to accurately predict when this will happen.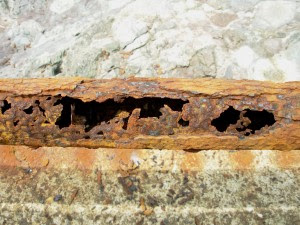 Accurate Leak and Line does not recommend cast iron pipe repair unless there is an emergency. At some point, the Texas clay soil underneath the concrete slab may expand because of the moisture accumulation, and now you would be looking at the risk of a foundation shift. Patching things up will not prevent inevitable damage to the structure. Replacement is the only sensible solution, and you do not have to wait until the sewer system springs a leak.
Testing and Inspection of Cast Iron Piping:
The condition of aging sewer systems can be determined by means of video camera inspections or hydrostatic pressure testing. Accurate Leak and Line offers free video inspections of old cast iron plumbing structures; our Texas master plumbers can let you know what condition the pipes are in. For the most part, when you notice a sewer leak on your own, chances are that it has been there for a while, but the only way to evaluate the situation is with an inspection.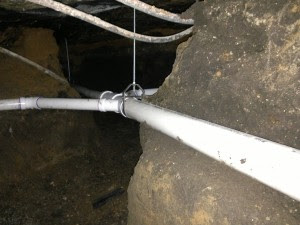 Another important aspect of testing is the ability to determine the viability of the system. Temporary repairs can be made with PVC pipes because of their compatible fit with old cast iron piping. Finding a manufacturer of cast iron piping and fittings is not a sensible option, and neither is replacing sections of the pipe when you know what will likely happen next. Not all sewer systems will need extensive rerouting or tunneling of new trenches, but this will have to be decided after the inspection. If you live in an older property that may have cast iron plumbing, call us for a free inspection today.