What Influences a Slab Leak Repair Cost?
A slab leak repair cost can be pretty expensive, depending on the severity of the issue.
The national average cost is $2,280, which already includes the fee for detection. Depending on how easy or hard it is to access the leak, it can go as low as $630 or as high as $4,400.
However, if you disregard a slab leak because of the repair cost, it could cause irreversible damage to your home. You will also be placing your family's health at risk.
The repair cost is negligible and becomes almost irrelevant compared to what you incur if you forgo repairs.
Slab Leak Repair Cost:
The average slab leak repair cost, which includes having a professional come to your home to find a leak, ranges from $150 to $400, depending on how difficult it is to determine where the leak is. On top of that, the cost to rip out concrete and repair the damage to the pipe can cost around $2,000.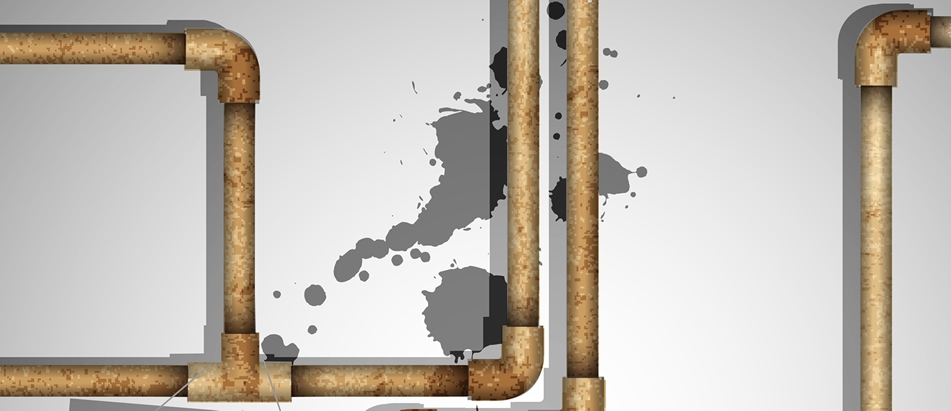 A slab leak occurs when your water or sewer lines are located underneath concrete slabs. As your home's pipes get older, they begin to crack and leak. These leaks can be a serious issue, and while the problem is typically very easy to fix, finding the source of the leak can be somewhat challenging.
Slab leaks can occur in both water and sewer lines, and the signs of each can be different (How to detect a slab leak). If a water line is the source of the leak, you'll notice wet spots on your floor, an increase in your water bill, the sound of running water, random warm spots on the floor, or mold popping up in random places.
If your sewer line is the source of the leak, you may start to notice a crack in your foundation, an elevated spot on the floor, or soil washing away from the foundation of your home for no apparent reason. It's important to keep an eye out for these signs and not ignore them once you notice them.
The Danger of Slab Leaks
Leaking sewage lines can be a bit more dangerous because they often don't show any signs of damage until the problem becomes more severe. These leaks can go undetected for a long period of time and wreak havoc on your home's foundation.
If you notice signs of a slab leak in your home, it's important to consult with a professional immediately (Find out why you should care about a slab leak). In some cases, special equipment may need to be used to locate the leak. Many professionals have special listening devices that allow them to hear beneath the concrete.
This equipment pumps air into the water or sewage lines and allows the user to listen for air escaping the pipes to determine where the leak is. Once you've determined where the leak is, you'll need to rip up some concrete in order to get to it. This can cause a lot of mess, especially since breaking up concrete causes a lot of dust. Be sure to cover any furniture you want to keep clean.
Once you've gained access to the pipe, your plumber can recommend the best course of action, but be wary about any recommendations which involve using rubber pipe repairs. Concrete can erode rubber very quickly, which will lead you right back where you started.
Types of Slab Leak Repair Cost
There are different types of underlying costs that add up to the total slab leak repair bill. However, the price can significantly go down depending on the following factors:
Slab Leak Detection
Locating the leak source can be very tricky for plumbers as the waterline sits beneath your home's foundation. On average, the cost of slab leak detection is $280. But you can end up paying from $150 to $400, depending on the difficulty of detecting the leak.
Leaking Pipe Repair
Repairing a leaking pipe usually runs within the range of $150 to $350. However, the equipment and labor involved in detection can add significantly to your leaking pipe repair cost.
Slab Leak Reroute
In cases involving pipes that are already deteriorating, rerouting is the only possible option. Forcing a repair in one section can add pressure to the rest, resulting in future slab leaks. The process of rerouting usually involves closing off the leaking line at the nearest manifold and rerouting a new pipe.
The typical cost of slab leak rerouting is around $1,500. However, if the pipes are short, you may only need to pay as little as $200 to $500.
Water Line Leak Repair
Repairing a leak on the water main can cost you as little as $350 to as much as $4,000. The amount you will be paying will largely depend on the labor involved in completing a repair – with most homeowners spending from the range of $350 to $1,400.
Concrete Slab Repair
To fix any leaking pipes below the ground, slab leak specialists will have to break through your home's concrete foundation. The cost for concrete slab repair can range from $1,900 to $6,750, which is relatively high yet necessary.
Concrete Slab Replacement
Sometimes, the concrete foundation ends up sustaining too much damage during the repair process. It usually happens when there is no other way to reach the leaking pipes. Pouring a new concrete slab would typically cost you $6 per square foot, and the total could range from $3,600 to $7,200.
Factors that Could Influence Slab Leak Repair Costs
Your total slab leak repair cost will vary greatly depending on the tasks involved in fixing the problem. The variables affecting the total price include the accessibility of the leak and the labor costs for both detecting and fixing it.
While these factors usually do not come into play unless they are necessary to complete the repairs, you need to be aware of the following:
Water damage: Depending on the extent of the problem, you will need to consider getting your budget ready to mitigate any water damages. It can include damages done to the flooring, basement, and other infrastructures in your home.
Excavations: Repairing slab leaks requires excavating and sometimes even demolishing the structure since removing the soil is necessary to access the underground piping.
Getting Your Home's Slab Leak Repair is Worth its Cost
Regardless of how much you need to shell out to fix your home's slab leak, it is well worth its cost. Slab leaks are common issues homeowners need to face as the house gets old – catching it early and getting the repairs done sooner can help mitigate the cost.