Millions of Texans have recently had to deal with power outages and frozen and burst water pipes due to the extreme weather experienced in February. No doubt we all shared some inconvenience as we faced this bout of unusually icy weather. But why were pipes freezing? One of the main reasons for the frozen and burst pipes is that we don't typically get freezing temperatures in this part of the country. Because of this, our homes and the placement of our water pipes don't take extreme cold into account. In other parts of the country, walls are built thicker, homes have more insulation, and pipes may be several feet underground or run up through a basement. In Texas, our pipes are fitted to exterior walls or in attics; because of this, they are not insulated and can therefore freeze quickly.
[lwptoc]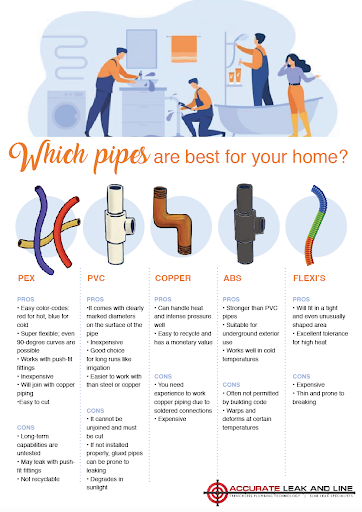 Knowing this, we thought we would explain the different home plumbing pipe types and which ones are best for your home. Because if it's time to replace your pipes or install new ones, you will have a choice between several types of plumbing pipes, which can be confusing. Not sure if your pipes need replacing? Read our recent article on 'The right time for a pipe replacement.' 
The types of home plumbing pipe types range from PEX and PVC to galvanized and brass. How do you know which type to use for water supply and drainage, which is best for your home's sewer and exterior? Don't worry; the Accurate Leak team wants to make things straightforward for you. This article explores the best types of pipes and applications for these plumbing pipes in your home. We've got you covered. 
Our top tip when DIYing your house plumbing system: Always check your pipe is well supported, the fittings appropriately installed, and pipes tested. You want to ensure everything, especially if set behind a wall, is working correctly and there are no leaks insight.
The Most Common Home Plumbing Pipe Types:
PEX Pipe
Are you looking for the latest and greatest in piping? One of the newest pipes in plumbing is PEX pipe, or cross-linked polyethylene, and it is gaining popularity quickly. But it is used only to supply water. Rigid enough to withstand water supply pressure and flexible enough to weave through walls, ceiling, basements, this piping is a top choice for water-supply plumbing. 
Pros
Easy to understand color-codes: red for hot water, blue for cold 

Super flexible; even 90-degree curves are possible

Push-fit plumbing fittings will work to attach, among others

Inexpensive

Will join with copper piping

Easy to cut
Cons
Since its new, long-term capabilities are untested

May leak with push-fit plumbing fittings

Not recyclable
PVC Pipe
For drain or vent line plumbing pipe, PVC, or polyvinyl chloride, is your go-to pipe. PVC has been around for a while now as an alternative to traditional galvanized steel pipes. It became popular because it is light and easy to work with and install. So easy; in fact, you will only need a hacksaw and a miter box to cut. Another bonus, PVC glues together with solvents.
Pros
It comes with clearly marked diameters on the surface of the pipe

Inexpensive and a good choice for long runs like irrigation

Easier to work with than steel or copper
Cons
It cannot be unjoined and must be cut

If not installed properly, glued pipes can be prone to leaking 

Degrades in sunlight
Rigid Copper Pipe
Most often used for water supply lines within the home, rigid copper is easily cut with a hacksaw or a special copper tube cutter. And, these pipes are great for the water supply because they do not come with any health risks. There are many options for connections for rigid copper piping, the best being the solder-type connection. But note that this requires experience and safety protocols.
Pros
Can handle heat and intense pressure well

Easy to recycle and has a monetary value
Cons
You need experience to work copper piping due to soldered connections

It is expensive
ABS Pipe
ABS (acrylonitrile butadiene styrene) pipe is mainly used as a vent and drain line. Although it looks very similar to PVC piping, it is black and slightly softer. It is also made with BPA, which is a chemical commonly used to harden plastic. Although BPA has recently received a bad reputation, its current assessment from the Food and Drug Administration states that it is safe. ABS piping has a one-step process for connecting pipes; they can be bonded instantly with a block of special cement, and there is no need for a primer as with PVC piping. 
Pros
Stronger than PVC pipes

Suitable for underground exterior use

Works well in cold temperatures
Cons
Often not permitted by building code

Warps and deforms at certain temperatures
Flexible Type Connection
Flexible connections, or commonly called Flexi's, are used for final connections to appliances. Like water heaters, toilets, sinks, etc. They are not allowed to be used inside walls and floors, so ensure you follow local codes when using Flexi's. They are used on gas and domestic water and come in many lengths and sizes. 
Pros
Will fit in a tight and even unusually shaped area

Excellent tolerance for high heat 
Cons
It is expensive

Thin and prone to breaking
Galvanized Steel Pipe and Cast Iron
The two types of pipe commonly found in older homes and infrequently installed these days are steel and cast iron piping. These were used for many years before their plastic alternatives became popular. 
Galvanized steel pipe:

This piping was used for drainage, water supply, gas supply, and any number of other purposes. Although it is still around, particularly for gas supply, it is far less used nowadays and is not used for water supply in new projects. Each end of the pipe is threaded, and individual pipes are screwed into each other with connecting fittings.

Cast iron pipe:

This piping has been used for sewer and other drainage purposes for many years. Cast iron is weighty and difficult to cut and is still found in many homes, and it is viable until the point that it rusts entirely through. Once the time comes to replace it, you will find it most often replaced with rigid plastic pipes such as ABS.
Pros
Galvanized pipes are not used for plumbing anymore. However, they are still required for use with natural gas.
Cons
Galvanized steel pipe eventually corrodes and blocks water flow.

Some galvanized steel pipes may pass lead into the water supply.
Have you checked what type of plumbing pipes are in your house plumbing system? If you have an older home, it may be time to replace your older, worn pipes with newer piping material. If this doesn't sound like a DIY project you can handle, then instead call the experts. Licensed plumbers will decide which pipes will best suit your home and work with what you have already got.  
Call The Experts
If all this sounds overwhelming, consider calling Texas' best plumbing professionals at Accurate Leak. Any homeowner will tell you that your plumbing system is one of your house's most essential parts; so, make sure you have it well covered with a professional service. 
Accurate Leak can give you a prompt Texas best plumbing service and repair any problems that you have. From a leak to a deep clog, their team of professionals can handle it. Keep sewer line damage from threatening the structural stability of your home and causing cosmetic issues as well. To find out more go to our website to find your local branch.